Philosophy
Our call as educators is to help form the whole child. This means not only teaching our students to read and write, but also guiding them through complex interactions as they develop social and emotional skills. We have the privilege of teaching children how to handle these interactions in a way that glorifies God and gives dignity to the human experience. Teaching a student to self regulate when they are upset about a bad grade or an argument with a peer provides an opportunity for important lessons that help them work towards living in the likeness of Christ. My hope, as the counselor, is to model Christ's love and acceptance as students work through the complexities of life so that they may authentically live in the image of God.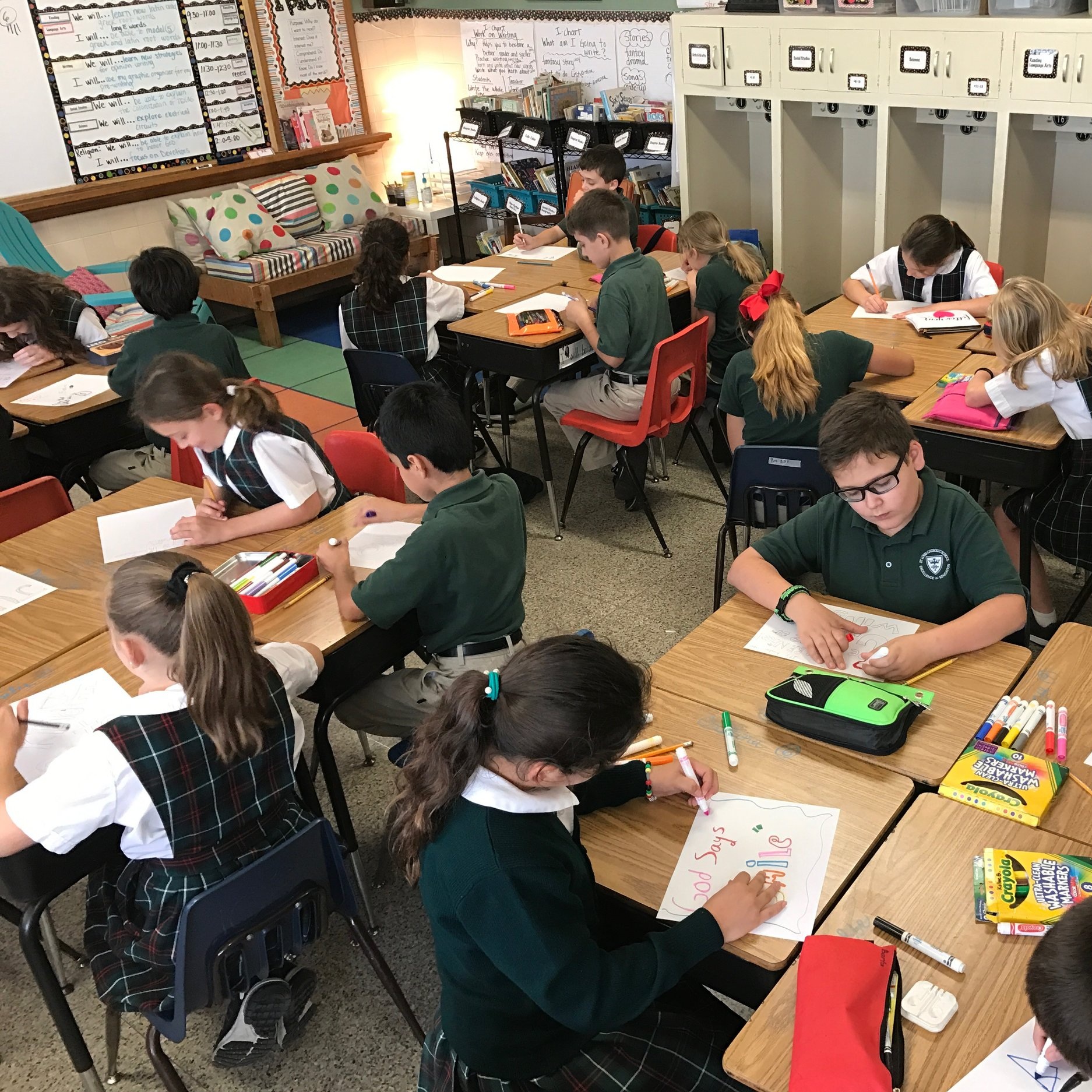 School wide virtues Program & Faith Families
St. Louis Catholic School uses the seven virtues as a road map to imitate the life of Christ. Students spend time with their Faith Families each month learning about a specific virtue and ways to practice this virtue in their own lives on and off our campus. Faith Families bring together students from across grade levels and gives them the opportunity for fellowship, leadership, and discipleship.
Counseling Services Available
Individual Counseling

Group Counseling

Lunch Bunch

Classroom Accommodations Coordination

Classroom Counseling Lessons

Standardized Assessment Coordination
Our school counselor, Emily Hladik, M.S., is a licensed Marriage and Family Therapist with a B.A. in Psychology and a M.S. in Marriage and Family Therapy from Oklahoma State University in Stillwater, Oklahoma. Her background in family therapy and passion for working with children motivated her to work in a school setting where she can provide spiritual, social, and emotional aid to students and their families. Mrs. Hladik hopes to create a nurturing, encouraging, and accepting environment in which students and their families can be their authentic selves and create long-lasting changes. She enjoys helping students find new ways to express themselves and connect with others. Mrs. Hladik has been part of the St. Louis Catholic School family for 5 years. She is active in the lives of her students, volunteering as the faculty leader of Student Council and her son attends the Early Childhood Development Center.